Lauren Graham in "Guys and Dolls" – Fan Reviews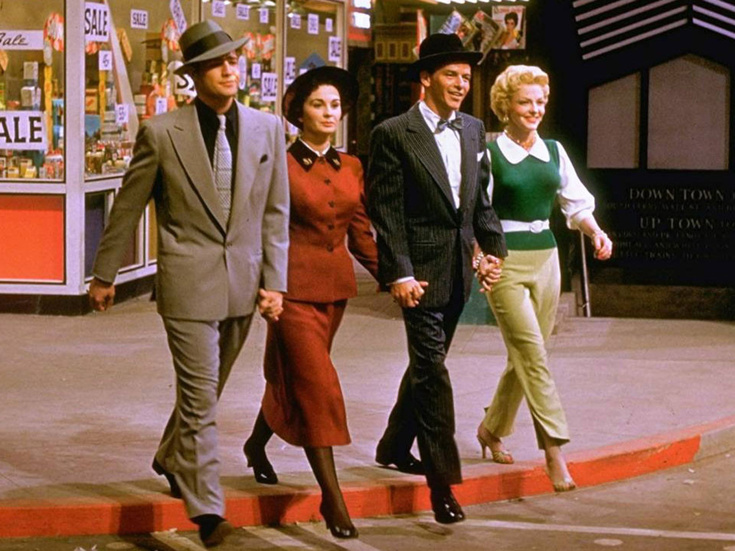 Lauren Graham's production of Guys and Dolls opened last week on Broadway for previews.
Lauren Graham has the lead role of Miss Adelaide in Guys and Dolls, a musical comedy that involves Adelaide's wish that her fiance Nathan (Oliver Platt) would finally commit to marrying her. The character has always been pegged as someone with impact charm and humor. And Lauren Graham delivers.
I have numerous accounts of Lauren's performance from the early reviews! Laura comments that Lauren was "wonderful" and sweet, despite having a cold! RBG says Lauren got the loudest applause at the end, suggesting fans won't be disappointed with the show. One fan shares this account:
"[Lauren Graham] was amazing, and I would tell you if she wasn't. She sang beautifully and truly made all of her lines either funny or touching. The audience loved her and the whole musical. She co-stars with Oliver Platt and he has to refine his performance a bit before the official opening of the show…but Lauren was stellar. She looked terrific and really made the show!!"
And em gave a long account of seeing Guys and Dolls last week, saying that the entire cast, but especially Lauren, was amazing:
"Who the heck knew she could sing like that? She was amazing!! She has a set of lungs on her, really! It is an absolutely amazing show, and it was only their fifth show ever!"
em says that, like above, Oliver Platt could use a little extra work on loosening up. Hopefully he does before opening night. On all accounts, it sounds like the show won't be a disappointment!! I really hope we see some Tony Awards nominations for Lauren & the production!
Guys and Dolls has its official opening night on March 1st at the Nederlander Theater. You can buy tickets here. If you go to the production, leave a comment or email me to tell me what you think – and if you're lucky enough to get a photo of and/or with Lauren, do let me know so I can share it!
Photo: Metro-Goldwyn-Mayer
Related Articles:
T'is with a heavy heart that we report the demise of Amy Sherman-Palladino's other series, Bunheads.
ABC Family finally brought down the axe yesterday and put the series and its many fans out of their misery.  The show ran for a single season (in two halves), gained a loyal fan base and provided some great moments of comedy, beauty and heartbreak.
Vulture has a quote from Amy Sherman-Palladino:
Thank you to anyone who chose to play in our sandbox for a while. It was a labor of love from all involved and well, f*ck. All you can do is try right? And drink.
I for one will be raising a glass to this glimpse of an alternate Stars Hollow, where a ghost delivers unconditional love from beyond the grave, squirrels steal toothbrushes and girls can be  funny, intelligent AND pretty.  And dance like pussycats.
So, for a few brief moments before we find ourselves pondering what Amy Sherman-Palladino might be doing with her new found spare time, let's linger a moment on what just became the final scene:
Ginny (Bailey Buntain) asks Michelle (Sutton Foster) about her audition in the city. Touched, Michelle says it went fine. Ginny starts getting teary and confides that she slept with a boy who's never really talked to her and hasn't called since – and while Michelle tries to calm her fears that she's an idiot and that he won't ever talk to her again, all she can really do is hold her tight while Ginny cries into her shoulder.  Michelle has found her place in Paradise, she's become a teacher, a role model and an inspiration, as Hubbell always knew she would.
RIP Bunheads.  Bless you and all who sailed in you.  Thanks for the dance.
Pics c/o ABCFamily
Related Articles:
Sally Struthers to Reprise "Annie" Role
Sally Struthers (Babette on Gilmore Girls) is undertaking one of my favorite roles of all time! Miss Hannigan in Annie!
Sally as Miss Hannigan in 
1998

Sally as Miss Hannigan in 2008
Sally will be heading to Thousand Oaks for the production of Annie running from October 14 – October 23rd at the Fred Kavli Theatre (tickets here).
This is not Sally's first time taking this role – she played Miss Hannigan on Broadway for the 20th Anniversary Production in 1998 and again took the role in 2008.
Related Articles:
Lauren Graham to be on Kevin Pollack Chat Show
Mark your calendars! Lauren Graham (Lorelai Gilmore on Gilmore Girls) is set to appear on the Kevin Pollack Chat Show , a live and interactive video blog.
On February 27th, head over here armed with questions at the ready.
Related Articles: